In this blog we are going to create an animated "split apart view". The idea is much like when you tap on an application group on the iOS home screen and the screen appears to split apart revealing the apps in that group.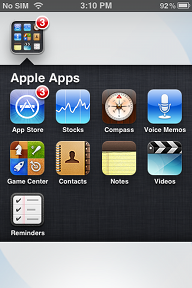 Summary
The implementation is quite simple. It should be clear that no view is actually going to split. The split effect can be achieved however as follows.
We will use two views, each with their background image set with the image of the window to be split apart - we shall call these the "doors" or leftView and rightView. We will also need to have the view that will be behind the doors when they open - insideView. The doors and insideView will be placed on top of the window that we want to be split apart - hostWin - when it is time for the effect. The impatient can skip straight to the example on github.